1997:
VICTORIAN FAIR TRADER
Office of Fair Trading & Business Affairs
Department of Justice
Glenn Jones has been continuously involved in the Building Industry for the past 35 years.
Glenn's committment to the Industry includes participating in the MBAV Housing Sector Committee, Major Domestic Contracts & Specifications Sub Committee including deputy chairman of the Building Registration Committee for the Building Practitioners Board in 1997 to 1999.
Glenn has also been a Judge in the MBAV housing Awards Program.
Glenn became a Director of the Master Builders Asscociation in 1997 and has won several Excellence in Housing Awards, Including the Victorian Fair Trader of the Year in 1997 and has been the only Victorian Builder to do so since that time.
The Boston Group specializes in providing building industry services and project management, dispute resolution and expert construction reports and has been a member of the MBAV since 1984.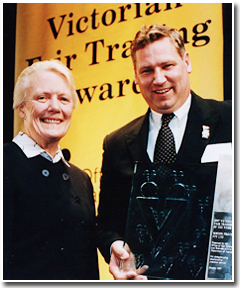 Vic Fair Trader Award - Video